Ferodo Brake Pads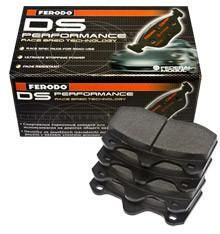 Ferodo DS Performance
are designed for the driver who demands the ultimate in braking performance on the stret. They provide the kind of braking power normally associated with racing cars - all without the need to build up and maintain high operating temperatures. Ferodo DS Performance pads give low and high speed braking efficiency, reduced stopping distances and consistent brake pedal feel from cold, DS Performance are the driver's choice for safe, high performance braking and are formulated to minimize disc wear without losing the friction like characteristics associated with Ferodo products. Street use
Friction level of approximately 0.45..
Good pedal feel
Consistent pedal feel
Reduced stopping distance
DDSS2500 (H)
DS2500
is amongst the foremost high performance street or track day pads in the business and one of the most popular we sell. It is also suitable for some light duty front and many rear pure race applications.
It also offers excellent refinement for such a high performance pad.
DS3000 (R)
DS3000
is the Ferodo compound that has set the braking standard for race use. In addition to its reduced bedding in time (approximately 50 percent quicker than other materials), the main characteristics of the DS3000 are: Not for street use
High coefficient of friction at all speeds and temperatures

High initial bite

Predictability and control because of the unvarying torque output

Low off-brake drag




DSUNO (Z)
DS UNO
is the new heavy duty racing material from Ferodo Racing. DSUNO are a high friction output brake pad, whilst improving pad and disc life .The risk of wheel lock is significantly reduced compared to other pads with the same high nominal friction coefficient, without any loss of output. This is the ultimate good feel pad. Not for street use
Medium/high coefficient of friction at all speeds and temperatures

Excellent modulation

Long pad life

Excellent disc life and condition

Medium initial bite

Consistent performance with a firm pedal feel
Other Ferodo race materials available are 4007 , DS3000E , DS3000R , DS1.11 and DS 2.1.