Winmax Brake Pads
THE NEW GENERATION BRAKE PAD, NOW AVAILABLE IN AUSTRALIA!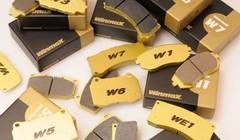 Simply remarkable in terms of performance, fade resistance and wear rates.

New to Australia, but with an exceptional pedigree.

Great pricing representing new levels of value for money.

A huge range with almost every pad shape ever produced.

Used by top motorsport teams in road racing, rally racing, gymkhana, autocross, and time trials

Winmax brake pads have been rigorously tested in competitive racing environments throughout the world

From W1 to WE1 we have you covered and then we have the Circo range for next level racing
WinmaX W1
Effective compound for performance street use with minimal noise and brake dust.

Average: 0.29 ~ 0.32

Temperature: Normal Temp ~ 450°C

Material: Non Steel

WinmaX W5
Compound for large circuit racing targeted for increased brake control and effectiveness.

Average: 0.40 ~ 0.43

Temperature: 100°C ~ 750°C

WinmaX W2
Improved initial response for sport driving with longer pad and rotor life.

Average: 0.32 ~ 0.35

Temperature: Normal Temp 0 ~ 500°C

WinmaX W6.5
High friction and temperature tolerant pads
balanced for efficiency and Mu.

Average: 0.47 ~ 0.50

Temperature: 50°C ~ 800°C

WinmaX W3
Blended for sport driving or circuit racing, the W3 is the
most versatile brake pad available. Great for heavy performance street cars

Average: 0.34 ~ 0.37

Temperature: Normal Temp ~ 0 / 600°C

WinmaX W7
Full race brake pads for pro circuit and rally racing
with maximum stopping force.

Average: ?0.48 ~ 0.53

Temperature: 100°C ~ 850°C
Winmax also includes the range of W4, W6 and Endurance WE1 brake pads.